PUBLIC PROTEST!
Join us and SHOW THE WORLD your thoughts about Spraying Poisons on our land, in our water and thru the air!
DATE: EVERY SATURDAY 11 am to 1 pm
MEET UP: WALDPORT! Hwy 101 and Hwy 34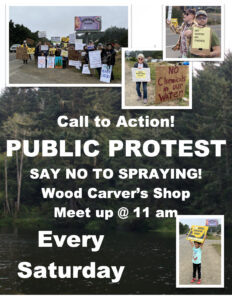 Can't make it? HONK as you go by!
PUBLIC ACTIVITY- Just For Fun
DATE: Saturday, December 9, 2023 9 am to 2 pm
PLACE: CRESTVIEW ELEMENTARY SCHOOL GYM AND CAFETERIA
Beachcomber Days Christmas Craft Faire- we will have a make and take Christmas ornament table PLUS it's a chance to talk to families about protecting our watersheds. Over 70 vendors! Lots of fun! email beavercreekstopthespray@gmail.com if you would like to volunteer. Come for an hour or stay all day! All help is welcomed!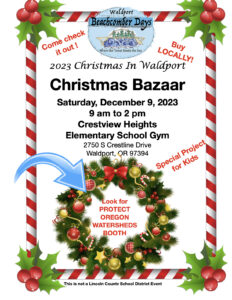 Our friends and neighbors who live on Beaver Creek need help.
If you can, please consider supporting them because they need to test water and soil before and after the spray: